Other
Welcome SpArc Services!
Posted on 07/03/2014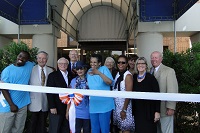 On June 30 SpArc Philadelphia welcomed SpArc Services (formerly PDDC) to the family of organizations. Special thanks Councilwoman Cindy Bass and Councilman Denny O'Brien, family members, board members and the many guests from the community for helping us launch the new name. Honorary mayors, Lester Thomas and JoAnn Brothers helped cut the ribbon and officially welcome SpArc Services!
photo by: Bonnie Squires