Welcome to SpArc Services
At SpArc Services, our mission is to support people with disabilities by providing programs and services that encourage inclusion, independence, and personal achievement and provide services through programs designed to fit each individual and develop personal goals and milestones for growth.
Cultural Arts

The Cultural Arts Center fosters creativity, self-confidence, and community connections for adults with developmental disabilities through classes in the visual and performing arts, outings to cultural venues, and opportunities to collaborate with other artists and arts-based organizations. Local artists and educators teach program participants skills in ceramics, drawing, painting, theater, music and movement. People enrolled in the program also make connections to the Philadelphia arts community and beyond through a variety of exhibitions, projects, and partnerships.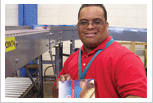 Job Training, Employment Partners and Job Placement Services

Employment Partners administers a vocational evaluation and provides skills training, job placement and job coaching. Highly individualized plans are created and implemented for each person in the program with the definitive goal of finding long-term, independent, competitive community-integrated employment. Services are provided to adults with a wide range of disabilities, behavioral health issues, learning disabilities, visual issues, auditory issues at companies such as Shop Rite, PennDot, Walmart, Prime Flight Aviation and WaWa.
Services provided through our job training center give individuals the tools they need to build basic job skills and earn a paycheck. Through worksites at local businesses, participants are exposed to a variety of job duties and industries. Partnerships include Tasty Baking Company and Hanks Beverage Company.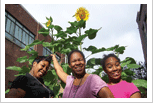 Community Supports

Home and Community-Based Services provides assistance for people to achieve a more independent quality of life by providing access to their community in an exciting new way. Services provided include Respite, Companion, Habilitation and Community Inclusion. A customized action plan is created for each participant to ensure that every person is poised to reach his or her full potential. 
Department of Public Welfare becomes Department of Human Services
Department of Public Welfare became the Department of Human Services. Kevin Dow (United Way) and Tanya Regli (The Arc of Philadelphia) comment.
Pennsylvania has finally taken steps to remove a powerfully toxic word from the state's bureaucratic lexicon. Effective Nov. 24, the Department of Public Welfare became the Department of Human Services. The word welfare is gone.
That word has discouraged and stigmatized generations of persons who needed, and deserved, human services from the government. It was an example of how a term can distract policymakers and other government officials from the true needs of their constituents. So we thank Gov. Corbett and the legislators who supported this change.
Both of our organizations support and work with thousands of hard-working, inspiring people in Southeastern Pennsylvania. We empower coworkers overcoming addiction to achieve healthy and meaningful lives. We work to restore dignity to the elderly needing long-term nursing care. We advocate with individuals with developmental disabilities to identify housing, employment, and supports. We help neighbors with physical disabilities find employment. We connect caregivers, siblings, and children with the resources they need.
For far too long, the word welfare has stigmatized people in our communities. Pennsylvania will now no longer be one of only two remaining states still using the antiquated term to refer to a department providing fundamental human services.
Why is this important?
First and foremost, because words matter. Throughout our history, there have been words that become part of a culture of judgment and discrimination. Changing the name allows us rethink our prejudices and return to the purpose of our work so that individuals can build independent and meaningful lives with the respect they deserve.
Second, the department's programs have expanded well beyond the traditional scope of "welfare," for all the right reasons.
In order to support the economic vitality and social well-being of those with significant barriers to employment and independent living, the department has developed a wide range of capabilities, partnering with other agencies of the commonwealth to maximize the impact of its efforts.
Third, the new name will change the tone and the direction of debates on funding. Too often the debate can boil down to "Should we increase spending on welfare or cut it?" We end up lumping very different programs together and in some budgets cut them all. When we start thinking everything is "welfare," we make poorly informed decisions. Talking about human services helps everyone understand and relate to the people and their needs. Investing in human services strengthens our economy by investing in individuals within our community.
The incoming Wolf administration now has the opportunity to seize on this change, helping us move from providing "welfare" to offering "human services" to those most in need. We look forward to designing services that establish the right economic and social conditions for our communities to prosper.