Welcome to SpArc Services
At SpArc Services, our mission is to support people with disabilities by providing programs and services that encourage inclusion, independence, and personal achievement and provide services through programs designed to fit each individual and develop personal goals and milestones for growth.
Cultural Arts

The Cultural Arts Center fosters creativity, self-confidence, and community connections for adults with developmental disabilities through classes in the visual and performing arts, outings to cultural venues, and opportunities to collaborate with other artists and arts-based organizations. Local artists and educators teach program participants skills in ceramics, drawing, painting, theater, music and movement. People enrolled in the program also make connections to the Philadelphia arts community and beyond through a variety of exhibitions, projects, and partnerships.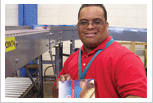 Job Training, Employment Partners and Job Placement Services

Employment Partners administers a vocational evaluation and provides skills training, job placement and job coaching. Highly individualized plans are created and implemented for each person in the program with the definitive goal of finding long-term, independent, competitive community-integrated employment. Services are provided to adults with a wide range of disabilities, behavioral health issues, learning disabilities, visual issues, auditory issues at companies such as Shop Rite, PennDot, Walmart, Prime Flight Aviation and WaWa.
Services provided through our job training center give individuals the tools they need to build basic job skills and earn a paycheck. Through worksites at local businesses, participants are exposed to a variety of job duties and industries. Partnerships include Tasty Baking Company and Hanks Beverage Company.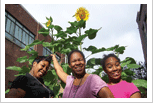 Community Supports

Home and Community-Based Services provides assistance for people to achieve a more independent quality of life by providing access to their community in an exciting new way. Services provided include Respite, Companion, Habilitation and Community Inclusion. A customized action plan is created for each participant to ensure that every person is poised to reach his or her full potential. 
Disability Employment Awareness Month
FOR IMMEDIATE RELEASE
October 20, 2015
Governor Wolf, Secretary Dallas, Secretary Manderino Encourage Pennsylvania Employers to Explore Disability Employment Options
October is Disability Employment Awareness Month
Harrisburg, PA – Today, the Departments of Human Services (DHS) and Labor & Industry (L&I) announced that Governor Tom Wolf has declared October as Disability Employment Awareness Month in Pennsylvania as part of a national celebration. This year's theme is "My disability is one part of who I am." Pennsylvania is participating in Employment First State Leadership Mentoring Program (EFSLMP), a U.S. Dept. of Labor, Office of Disability Employment Policy program that gives states technical assistance from national experts to develop and implement a plan to increase competitive integrated employment for individuals with disabilities.
"Workers with disabilities bring unique gifts to the workforce, but their national unemployment rate was more than double the rate of people without disabilities in August 2015," Governor Wolf said. "Disability Employment Awareness Month is a chance to raise awareness about disability employment issues and also to celebrate the contributions of Pennsylvania's workers with disabilities."
"Smart employers are hiring individuals with disabilities because they recognize the value of this inspired, hardworking workforce," said DHS Secretary Ted Dallas. "We've seen in U.S. Department of Labor reports that people with disabilities often exceed job expectations and have excellent attendance records. Employees with disabilities also bring unique experiences and understanding that transform a workplace and enhance products and services."
Governor Wolf's proposed FY 2015-2016 budget includes $500,000 to provide additional supports to promote competitive employment opportunities for individuals with intellectual disabilities. This initiative is a collaborative effort between DHS and L&I's Office of Vocational Rehabilitation (OVR). Pending the approved budget, this joint initiative will enable OVR to build intellectual disability expertise and allow existing vocational rehabilitation counselors to carry smaller caseloads for this population. This initiative will also allow for the possibility of expanded training and job-readiness programs, paid work experience for high school students with an intellectual disability, person-centered and customized employment demonstration projects, and increased outreach to families.
"Labor & Industry's Office of Vocational Rehabilitation has helped tens of thousands of people with disabilities find and keep gainful employment," L&I Secretary Kathy Manderino said. "With additional funding proposed by Governor Wolf, we can draw down federal dollars to help serve even more to assist people with disabilities to reach their fullest career potential."
Gov. Wolf's 2015-2016 budget allows for a $5 million increase in funding to OVR. Increased state funding means that the commonwealth can match federal funds that in previous years have been left in Washington. These dollars can be used to help employers offset their initial expense of on-boarding new workforce members and help adults with disabilities statewide find employment and along with it, independence.
The administration will host numerous events across the commonwealth in the upcoming weeks. The Governor's Cabinet for People with Disabilities, DHS and L&I are sponsoring the fourth annual Pennsylvania Disability Employment and Empowerment Summits in Pittsburgh, October 27, and Lancaster, November 13. The summits will bring together employers, related government agencies, service providers, and people with disabilities to discuss challenges, opportunities, case studies of programs of excellence, advancements in adaptive technology, and supports. There will also be a job fair. Registration is available at www.padesummit.org.
Pennsylvania also offers businesses interested in hiring individuals with disabilities the Single Point of Contact (SPOC) approach utilizing the Business Services and Outreach Division of the Pennsylvania Office of Vocational Rehabilitation, and the "Hiring People with Disabilities How-To Guide."
For a complete list of NDEAM events, visit dli.pa.gov.
MEDIA CONTACT: Diana Fishlock, DHS, 717-425-7606
Sara Goulet, L&I, 717-787-7530
Editor's note:
PROCLAMATION
DISABILITY EMPLOYMENT AWARENESS MONTH
October 2015
WHEREAS, the United States Department of Labor's Office of Disability Employment Policy recognizes October 2015 as the 70th National Disability Employment Awareness Month with the theme "My disability is one part of who I am;" and
WHEREAS, all Pennsylvanians should have the opportunity to live and work with dignity, freedom, and economic self-sufficiency. The vast majority of individuals with disabilities want to work and can be successful in competitive, integrated employment; and
WHEREAS, the national unemployment rate for people with disabilities was 10.4 percent, compared to 5.4 percent for people without disabilities, and Pennsylvanians with disabilities, including Pennsylvania's veterans, have proven to be valuable employees who contribute positively to the bottom line of companies for whom they work; and
WHEREAS, through the Business Services and Outreach Division of the Pennsylvania Office of Vocational Rehabilitation and the "Hiring People with Disabilities How-To Guide," Pennsylvania businesses are encouraged to employ people with disabilities; and
WHEREAS, Pennsylvania continues to promote awareness about disability employment through its annual Pennsylvania Disability Employment and Empowerment Summit, an event that brings together employers, individuals with disabilities, advocates, service providers, and government officials to discuss employment issues and provide information about programs and services that will enhance the quality of life for Pennsylvanians with disabilities.
THEREFORE, I, Tom Wolf, Governor of the Commonwealth of Pennsylvania, do hereby proclaim the month of October 2015 as DISABILITY EMPLOYMENT AWARENESS MONTH in Pennsylvania.
GIVEN under my hand and the Seal of the Governor, at the City of Harrisburg, on this fifth day of October in the Year of our Lord two thousand and fifteen, and of the Commonwealth the two hundred and fortieth.
TOM WOLF
Governor