Welcome to SpArc Services
At SpArc Services, our mission is to support people with disabilities by providing programs and services that encourage inclusion, independence, and personal achievement and provide services through programs designed to fit each individual and develop personal goals and milestones for growth.
Cultural Arts

The Cultural Arts Center fosters creativity, self-confidence, and community connections for adults with developmental disabilities through classes in the visual and performing arts, outings to cultural venues, and opportunities to collaborate with other artists and arts-based organizations. Local artists and educators teach program participants skills in ceramics, drawing, painting, theater, music and movement. People enrolled in the program also make connections to the Philadelphia arts community and beyond through a variety of exhibitions, projects, and partnerships.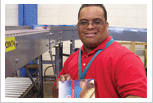 Job Training, Employment Partners and Job Placement Services

Employment Partners administers a vocational evaluation and provides skills training, job placement and job coaching. Highly individualized plans are created and implemented for each person in the program with the definitive goal of finding long-term, independent, competitive community-integrated employment. Services are provided to adults with a wide range of disabilities, behavioral health issues, learning disabilities, visual issues, auditory issues at companies such as Shop Rite, PennDot, Walmart, Prime Flight Aviation and WaWa.
Services provided through our job training center give individuals the tools they need to build basic job skills and earn a paycheck. Through worksites at local businesses, participants are exposed to a variety of job duties and industries. Partnerships include Tasty Baking Company and Hanks Beverage Company.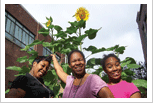 Community Supports

Home and Community-Based Services provides assistance for people to achieve a more independent quality of life by providing access to their community in an exciting new way. Services provided include Respite, Companion, Habilitation and Community Inclusion. A customized action plan is created for each participant to ensure that every person is poised to reach his or her full potential. 
The Arc of Philadelphia Receives Grant from The Philadelphia Foundation's Fund for Children
FOR IMMEDIATE RELEASE
Contact: Tanya Regli
215.229.4550 x 118
Thursday, April 21, 2016 (Philadelphia)
The Arc of Philadelphia receives $40,000 from The Philadelphia Foundation's Fund for Children, to provide leadership opportunities for youth with intellectual and developmental disabilities, including autism, as well as involving other key stakeholders including families, teachers, employers, and universities through many different activities. The grant money is made possible through funds from the The Philadelphia Foundation's Fund for Children, which is supported through generous annual contributions from the Philadelphia Eagles and Philadelphia Phillies.
Executive Director for The Arc of Philadelphia, Tanya Regli, said that the funds would be used for expansion of the Youth Leadership Abilities Project, which promotes and supports leadership skills and opportunities for youth with intellectual and developmental disabilities in Philadelphia to "prepare the youth of today to be leaders for tomorrow." Through leadership opportunities in the community, training, personal development activities, and mentoring, Philadelphia's youth will develop the skills to serve as leaders and mentors for the next generation and ensure that people with disabilities are fully included in every facet of life and in the communities where they live and work. "We are grateful to the Philadelphia Foundation through the Fund for Children for the resources needed to continue to expand our work developing our young people and preparing them for success," said Regli.
About The Arc of Philadelphia
The Arc of Philadelphia has a rich history of working to ensure inclusion for all and draws its inspiration from the parents that founded it in 1948 whom were seeking better services for children with developmental and other disabilities. The Arc has labored tirelessly for the equal rights and human dignity of people with disabilities since the time when institutionalization of newborns with intellectual disabilities was the norm. Each step along the way, their objective has been to promote the capacity of people with disabilities to live in the community, to contribute to society and to gain access to every reasonable opportunity to serve or receive services from governmental, economic and social organizations. For more information please visit www.arcphiladelphia.org
About The Philadelphia Foundation
Since 1918, The Philadelphia Foundation has been committed to improving the quality of life in Bucks, Chester, Delaware, Montgomery, and Philadelphia Counties. It links those with financial resources to those who serve societal needs. The foundation grows the more than 900 charitable funds established by its donors and distributes about $20 million annually in grants and scholarships to about 1,000 effective nonprofits. Through this support, the Foundation builds healthy communities, strengthens children and families, advances economic opportunities and enhances culture and recreation. For more information, please visit www.philafound.org