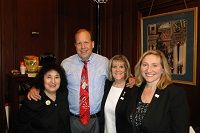 Laura Princiotta, Tanya Regli and Bonnie Squires spent a very productive day in Harrisburg at the Capitol today, meeting with many legislators, handing them copies of The Arc of PA priorities, discussing them and taking photos with them.
The team spent at least a half-hour, sometimes more, with the following:
Senator Daylin Leach, Senator Shirley Kitchen, Senator Christine Tartaglione, Rep. Jim Roebuck, Senator Vincent Hughes' executive director of the Senate Appropriations Committee (Randy Albright), and Senator Larry Farnese's chief of Staff Tony Mannino and Legislative Director Sally Keaveney.
At lunch-time the group headed to the Capitol cafeteria, and there we also were able to meet with, give our 30-second "elevator speech" and take photos of the following: Rep Dwight Evans, Rep. Steve Kinsey, Rep. Curtis Thomas, plus some other important advocates, like Kurt Kondrich from the Early Learning Council.
Before the team began their appointments appointments we also had a chance to speak to Rep. Paul Clymer in the Rotunda, and with Renee Amoore and Donna Allie (they were there on behalf of the Philadelphia Free Library).
At The Arc of PA reception at the Hilton at the end of the day, the team had the opportunity to speak with - and take photos with - award-winners Rep. Tom Murt and Senator Pat Browne, Rep. Mary Jo Daley, Rep. Steve McCarter, Rep. Pam DeLissio, Senator Jay Costa, as well as Maureen Cronin, executive director of The Arc of PA, Pam Klipa, and a several other elected officials and The Arc directors.
photo by: Bonnie Squires