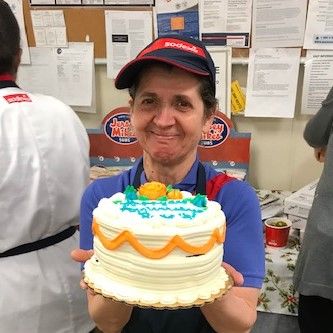 Radojka beamed as she held her "congratulations" cake aloft.
We at the Employment program of SpArc Services are very proud, as she was celebrating her 2-year anniversary as an employee of Sodexo. It's an extraordinary accomplishment for her as she came to the United States from Bosnia to escape the turmoil of ethnic conflict and war conditions during the 1990s. Radojka formally became a U.S. Citizen on the day she was to begin her job!  Radojka has worked Monday and Wednesday since then in the Sodexo cafeteria.
Many of the SpArc Services program participants, adults with intellectual and developmental disabilities, are seeking community-integrated employment. We endeavor to make the connections and conduct the training that will facilitate those ambitions. Employment services are available at every level – including vocational training to build employment skills, evaluation of interests, and job coaches who provide on-the-job support. We even provide training at nonprofit partners in the community, like MANNA and The Food Trust.
We offer Radjoka a hearty congratulations and wish her continued success!