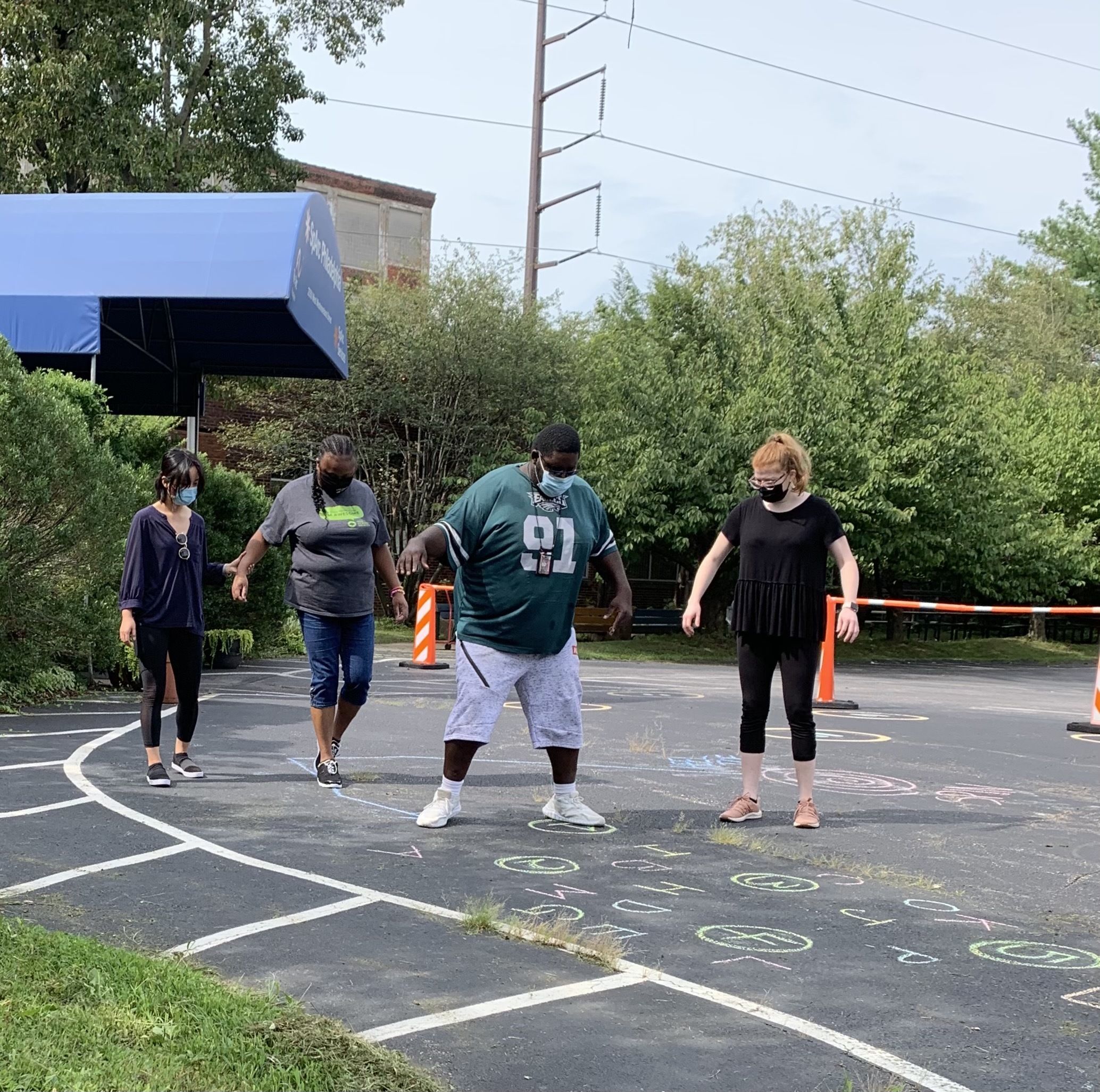 The Arc of Philadelphia and SpArc Services had a great semester hosting Nina and Tierney, students in the Master of Science in Occupational Therapy program at Jefferson University. Nina and Tierney got involved with our organization through our HealthMeet program, an initiative of The Arc of Philadelphia that connects  with students in the health professions to teach them about inclusive medicine and working with people with disabilities.
We sat down with Tierney and Nina to hear more about what they learned during the semester and how they applied their occupational therapy curriculum to projects and activities designed for program participants.
Please describe what you did with SpArc Services. What were some of the projects you worked on? 
"We developed therapeutic relationships with participants, either individually or in groups. After gathering information about the participants through evaluations and observations, we created and implemented interventions to work on the participants' goals to enhance their life skills and quality of life. We mainly focused on increasing their social participation and independence on their choice of ADLs (Activities of Daily Living.)"
"Utilizing kitchen tools, we followed recipes to create various sensory activities including slime and sensory bottles. We educated a participant on therapeutic exercises and provided a home exercise program to address posture and proper body mechanics. We engaged in a lot of money management activities including buying ingredients needed for recipes and identifying food items in ads and counting how much money would be needed to purchase the items. We also worked on emotional regulation and created stress balls and educated participants about various coping strategies they could use to regulate emotions."
How did you apply some of the principles that you have learned in your curriculum in occupational therapy?
"We utilized various theories we learned throughout the program. We focused most on the Person, Environment, Occupation (PEO) model. This model focuses on the interaction between the person, their environment, and the activity they are completing and how to enhance the interaction between them to increase performance. We also utilized various assessments we learned about through our curriculum, including the Canadian Occupational Performance Measure (COPM), and the Sensory Profile Measure (SPM). These assessments helped gather additional information about the participants to generate complete occupational profiles."
Is there anything you learned that surprised you? 
"We learned that there is so much work and advocacy to be done to create a community where individuals with disabilities can safely and respectfully be included in society. There are many barriers such as policy, stigma, and lack of education preventing this vulnerable population from receiving the care they need."
What are you most proud of accomplishing in this relationship with SpArc Services and The Arc of Philadelphia?
"We are most proud of the personal and professional development we have gained through working with SpArc Services and The Arc of Philadelphia. We have had the opportunity to network and meet professionals in various fields that are all advocates for individuals with intellectual and/or developmental disabilities (IDD.) We were able to learn about the different advocacy roles that we can contribute to and how to get more involved. We were also able to promote occupational therapy and show our role in a community-based setting."
What advice would you give to someone interested in promoting inclusive medicine in your field? 
"I would strongly recommend that they educate themselves, such as learning about the layers of politics, benefits of and barriers to inclusive healthcare, and the impact of stigma on the vulnerable population. I believe that knowledge is a great tool to become a strong advocate. Also, networking with diverse healthcare/non-healthcare professionals who are interested in inclusive medicine is a great step to promote inclusive healthcare."
 --
We are very grateful to Nina and Tierney for their hard work with us, and wish them well in their careers!