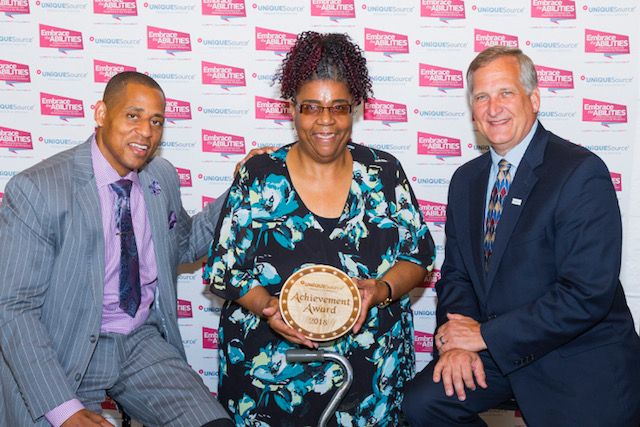 For Immediate Release:
HARRISBURG, PA, July 13, 2018 June 18 was an evening to "Embrace the Abilities" of Pennsylvanians by showcasing the skills and talents that individuals with disabilities bring to the workplace each and every day.
"Tonight, we celebrate a record 29 Member employees with the UniqueSource Achievement Award," said Vince Loose, president and CEO of UniqueSource® Products & Services. "Each of these professionals has distinguished themselves with their quality of work, commitment to professionalism in the workplace and skills development to move from performing a job to developing a career."
The UniqueSource Achievement Award was established in 1976 as the Nattie Mann Acheivement Award to recognize outstanding workers from around the state who demonstrate exceptional character in living and coping with disabilities, particularly in the workplace.
Following the awards ceremony, which took place at the Hershey Lodge and Convention Center in Hershey, Pennsylvania, guests were treated to an inspiring keynote address from Master Sergeant Cedric King – who, just as he led and motivated men in combat, now leads and motivates others to see the possibilities in their own lives.
Meet Award Winner Angie Abel
Angie has a personal understanding of living and working with a disability. She started working at SpArc Services as a photo license technician and eventually was promoted to a supervisor. Now she draws on her experience to motivate other technicians.
As the Photo ID Member Agency Representative, Angie manages the scheduling and staffing of 12 sites in the Philadelphia and surrounding areas. And as a former license technician, Angie is uniquely qualified to understand the demands and pressures of the contract and knows that she plays a major role in assuring quality and compliance.
Abel says that the best part of her job is helping other people. In fact, many of the techs report that Angie helps them work through their problems both of a personal and professional nature.
Despite significant challenges, she lives and works independently. She raised a family as a single mother and even stepped in to help raise her granddaughter.
"Angie is an extraordinary person that not only has my respect, but inspires me every day to work harder and do a better job," said Barry Bussell of SpArc Services who also nominated Angie for the award.
Master Sergeant Cedric King, Keynote Speaker
Master Sergeant Cedric King entered the United States Army in 1995. During a career that took him from an infantry private to a position of leadership in the elite Rangers, King graduated from a number of distinguished Army schools. He is the recipient of the Bronze Star, the Purple Heart and the Meritorious Service Medal. King is a four-time Best Ranger Competition participant.
On July 25, 2012, during his second tour in Afghanistan, King was severely injured by an improvised explosive device. The blast caused major internal injuries, permanent loss to part of his right arm and hand, and the amputation of both legs.
Just 21 months after losing both legs, King completed the Boston Marathon, running on prosthetic blades. He has gone on to compete in a number of physically daunting events, including a 70.3-mile half Ironman Triathlon, the 2014 New York City Marathon and the 48.6-mile Disney Marathon series. There, he successfully completed four runs in four days – a 5k, 10k, half-marathon and full marathon.
About UniqueSource Products & Services
UniqueSource is a 501(c)(3) nonprofit supplier of products and services dedicated to creating employment opportunities for persons with disabilities. It accomplishes this by partnering with its Members – Pennsylvania nonprofit agencies who employ persons with disabilities – to market and deliver their products and services to customers in both the private and public sectors.
For more information, visit the UniqueSource website.
# # #
Photo Caption: (Left) Master Sergeant Cedric King and Vince Loose, President & CEO of UniqueSource® Products & Services (right), congratulate Angie Abel (center) on her 2018 UniqueSource Achievement Award. Copyright 2018 Fine Art Photo, Inc.