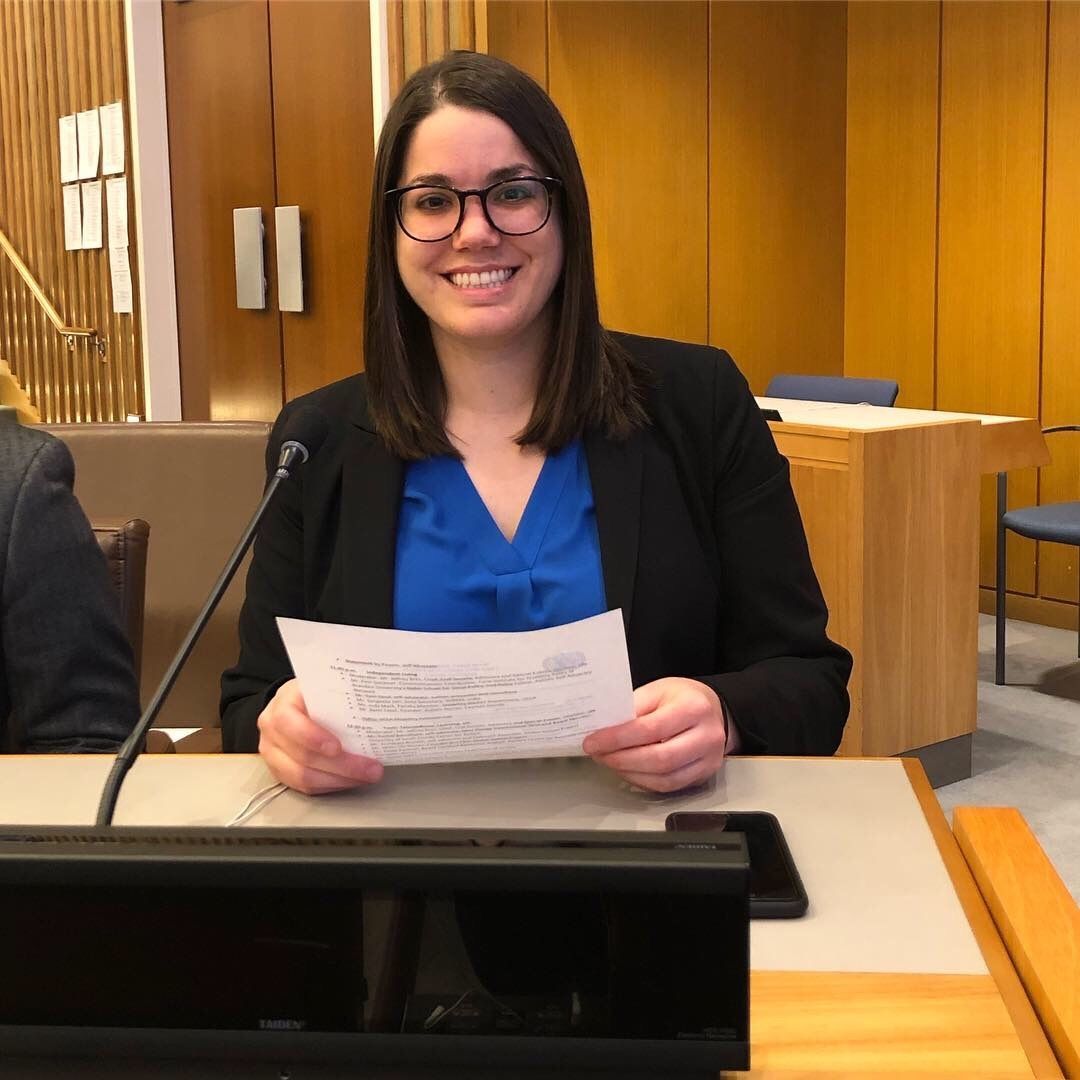 Meet Aubrey Sukowaski, the Business Outreach Liaison for Neurodiversity in the Workplace (NITW.) In this Q&A for our "Staff Spotlight," Aubrey explains how she became passionate about working in this field, why the work NITW does is important, and some ins-and-outs of their process to connect autistic and neurodivergent jobseekers with gainful employment.
Q: How did you get into this field? 
My mom was the director of a social service agency that serves individuals with intellectual and developmental disabilities since before I was born. I grew up around these individuals and experienced firsthand the care they received and the relationships they'd built with their caregivers. I knew there was something special and rewarding about this field and knew that I wanted to work with this population as soon as possible. Throughout high school I volunteered in the special education classrooms and with Special Olympics. On my eighteenth birthday, I was sitting in orientation at the same agency my mom was still working for and remember being so excited to be there. I worked part-time as a Direct Support Professional (DSP) in a residential setting throughout college and gained experience working with individuals with various backgrounds and diagnoses including children and adults with autism. Fast forward to 2021, with my bachelor's degree in public health, I've been in this field for going on 14 years and I couldn't be happier.
Q: What inspires you to work in this field? 
What inspires me to work in this field is knowing that every day I am doing my best to help others to reach their highest potential and live fulfilling lives. I also believe that many of my family members, specifically my mom, aunt, and grandfather, paved the way and inspired me to work in a field where helping others is the ultimate goal. My mom and aunt being nurses and my grandfather having been a firefighter, I knew their jobs revolved around caring for others and helping others to the best of their ability each and every day. Not only am I inspired by my family members, but I'm inspired by the hard work and determination of those working in this field alongside me and my colleagues at NITW.
Q: Why do you think the work of Neurodiversity in the Workplace (NITW) is important? 
I think the work of NITW helps to shed light on a national and global issue within the workforce. The unfortunate truth is that neurodiversity is not yet a pillar in talent acquisition or Diversity & Inclusion (D&I) initiatives. All too often, autistic or neurodivergent job seekers are left out of being considered for jobs they are otherwise qualified for because they aren't able to 'sell themselves' as well as neurotypical job seekers. Not only does NITW help neurodivergent job seekers with opportunities at some of the largest companies in the United States, NITW works to encourage talent acquisition and recruiters at these companies to consider alternative interviews and hiring processes.
Q: Tell us about the "alternative interview" that NITW coordinates for jobseekers, and its benefits. 
The alternative interview is a concept designed to allow job seekers to showcase their skills and talents directly to hiring managers in order to be considered for positions based solely on role-related skills. Traditional job interviews rely on social nuances and can present barriers to those with divergent communication styles. Rather than simply speaking with a hiring manager about the skills one possesses and answering the dreaded "tell me about yourself," or "where do you see yourself in five years?" questions, the altered interview allows the job seeker to show that they can do the work necessary for the position. The altered interview utilizes a technical project that allows for job seekers to demonstrate their technical and professional skills as well as their collaboration with others and preferred working styles in a realistic setting. The alternate interview process minimizes biases and eliminates barriers that may be apparent in a standard interview.
Q: What do you want people to know about your work?
What I would like for people to know about our team's work is that it is equally beneficial for both neurodivergent job seekers as well as the companies with whom we partner to run hiring programs. Through these programs, we are not only able to connect neurodivergent individuals to promising career opportunities, but we also guide hiring companies to well-qualified candidates who may unfortunately be overlooked in the traditional hiring process. The people we work with have the necessary skills, ability, and determination to be successful. Our programs help companies access untapped talent in this demographic of job seekers.